Whats on YOUR workbench?
The O scale Kings website really belongs to all O scalers, so tell us what's on your workbench! This page is dedicated to sharing what modelers are doing and what can be done. There are those that know how to get things done and those that need a little encouragement and or knowledge as to how to begin. Maybe this workbench series will help us help you in your modeling. Please share with us what you are doing on your workbench. Write up a little article and send it to our webmaster.
Painting Wheels
By Bruce B. Blackwood, February 14, 2019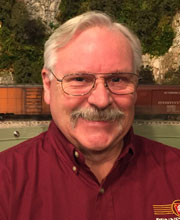 Hello and welcome, so I know spring is a long way away, but my spring cleaning has begun!
Last segment I talked about a finishing a coupler job …. Update … Talked to MNP at the Amherst show. They may design a coupler pocket for "kadee" couplers. Tells me we can and should tell the O scale manufactures what we would like to see … they want and need our input.
A few days ago, I went down and looked at my workbench and realized that I had probably a half dozen projects running, creating a situation where I had really no room to do anything. I had purchased another copy of ITLA's 1st full O scale building kit at the Amherst show, after drooling over their display models. Nick reports sales are going well on this limited-edition kit, so don't delay if you are thinking about one. So, I need space to work on the kit. I also have been working on the layout space for the building. And thus, Spring cleaning begins!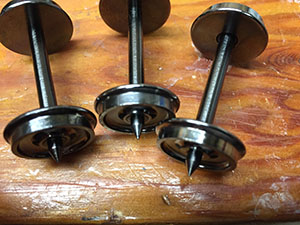 This is somewhat of a tale of how one project leads to others, let me explain. I have an IMRC or maybe a Red Caboose reefer kit sitting on the side of my work bench that had one truck missing. So, I looked all over the workbench and of course could not find it. So, I went to my box of wheels and trucks, pulled out a set of Intermountain metal wheels and a pair of their sprung trucks in kit form. I assembled the trucks and yes, I use the needle and thread method to contain the springs during assembly. I will freely admit that the coordination in my left hand is not what it used to be before the stroke. Thus, using the needle to run the thread thru the spring to act as keeper works well and serves well to keep me off the floor searching for what ultimately becomes a smashed or flat spring.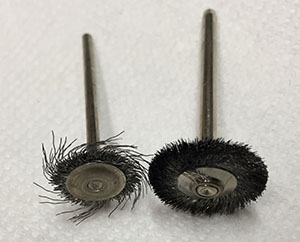 What I like to do is polish the treads of the wheels. I've seen this on a couple of the models that some of the well-known professionals have produced. I'm not sure how they do it. My method is typically a wire brush in a Dremel tool with the wheelset in my hand and slowly rotating the wheelset against the spinning metal brush. So, the obvious thing here I hope, is to wear eye protection -- and not just a pair of eyeglasses! Something that will offer real protection. I will also suggest to you that buying better quality wire brushes is money well spent. Don't know where or when I got them, but I bought a batch of wire brushes that have no information such as part number or manufacture or anything like that. They don't last even one tread! The wire bristles just fly out. And of course, right toward my eyes. I don't seem to have that problem with the ones that are higher-quality like Dremel. Your experiences of what brands you like, and dislike would be a tip well worth passing on to other modelers. I will tell you that putting a cheap wire brush in the chuck and having it basically come apart instantly can be very discouraging.
So, another method I've tried is putting a felt polishing wheel in the chuck and repeating the above procedure. I would like you all to look at the attached photo of three wheelsets. The way they come from Intermountain is on the left, one in the middle is the felt wheel and the one on the right is done with a wire brush. Do you see a difference? Also, please tell me if you think it's worth the trouble? At this point I'm not so sure. Maybe there's a better way of doing this? I would welcome your comments and tips.
I mentioned that this project led to another project. After I polish the tread, I like to paint the center of the wheel. this was becoming frustrating as I typically just push the wheel set into a piece of soft Styrofoam. Not being one of my better days for dexterity, they keep getting knocked off and on to the bench and into the drawers and all that type of stuff. So, I decided it was time to build a wheel holder to paint the centers. Here is a photo of my quickie wheel holder made from some scrap scale lumber on hand.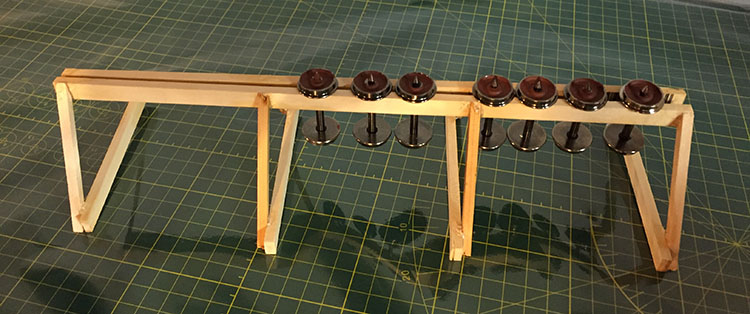 It took a couple of tries as I forgot that I had to have clearance for the wheel not getting paint to slide on. Thus, I went from straight legs to angled legs. This allows the wheels to be flat and keeps the paint on the wheel, instead of running off if vertical. Here's something else and I would like to know. If you know, please pass it on. You should notice that not only is the tread polished, but the actual side of the tread is also polished. I've noticed this on the one foot to the foot scale cars. I don't really know how that area gets polished. A proto 48 guy I met explained it to me at Amherst, but I forgot to lock it into my memory.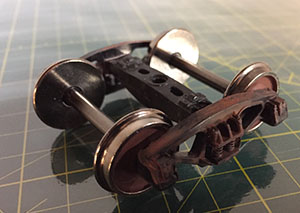 So, after the center of the wheels are painted, I reinstall the polished wheel sets into the truck and give the truck a little bit of light weathering. Usually by dry brushing and applying some weathering powders to the truck.
So that's the latest installment of what's on my workbench. How about you? What's on your bench? How about writing up a short article and a couple of photos? The Webmaster would love it.
Thanks,
Bruce
Adding some coupler pads
By Bruce B. Blackwood, January 10, 2019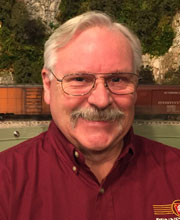 So Today I finished the project that's been sitting on my bench for several weeks. I'm starting to get my ducks in a row for the Amherst show coming up in about two weeks, so let me tell you how this project was affected by those preparations.
A year ago, I was attending the Amherst show helping promote the 2018 O scale national convention. While attending the show I was making the rounds trying to get donations - particularly door prizes from various O scale dealers, suppliers, and manufacturers. While doing so I came across an O scale track cleaner car from MNP. As I had started the transition to DCC and having heard many stories of how important and how much effort it is to keep your track clean, I got talked into buying one of these cars.
These cars are not inexpensive in my opinion. But they are a neat bit of technology. The car has two rotating pads, one for each rail, under the car and a on off switch and of course metal wheels with associated pickups so it runs off track power.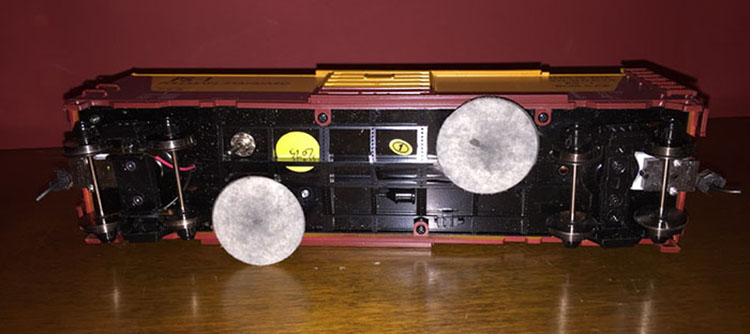 It's geared toward being pushed ahead of the locomotive and the pads buff the top of the rail. There are two geared motors, control circuit in this clever piece of equipment.
Mine came enclosed in an MTH premier boxcar. The first MTH boxcar to enter my basement. I took the car out of the box and "think" there were a couple of plastic coupler pads in a little baggie which I "think" I put in a safe place. I say I think because when I got the car out to actually mount some Kadee's on it and test the device, those little pads were nowhere to be found.
I've called Mike Train House, made a trip to Mike's Train House as they are about 45 minutes away from me and put out a plead on a couple of O Scale forums but was unable to find a part number or a pair of those pads. There's a couple of weights that are screwed to the floorboard just about where the center of the Kadee coupler should be and thus the reason for these pads.
On one of the forums I was politely told that I should just make a set. Being one that doesn't want to reinvent the wheel (as life is just too short) I was figuring that I would be able to find a pair of these pads at Amherst. But I grew impatient and decided that as a O scale 2 railer, building a couple coupler pads should not be that big of a deal. So I took the shell off the car off the frame and made up some coupler pads by drilling a clearance hole for the hex head bolt that holds the weights on (I don't know if this is an MTH deal or part of the conversion process of MNP), drilled and tapped two holes for the mounting of the Kadee couplers and drilled a couple of clearance holes in the weight for the little bit of screw that went pass the sheet metal floor.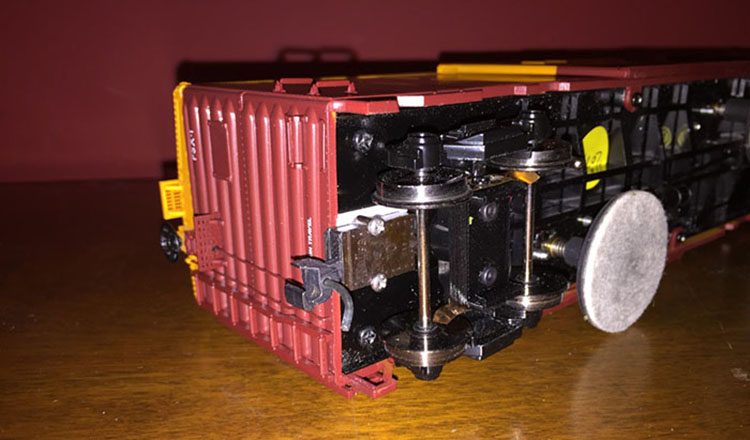 The first one of course took me longer than the second one, but I accomplished it. I got the couplers at the right height and reassembled the car. Maybe my next article will be a review of how well I think this car works.

Thanks for reading,
Bruce.